Yesterday evening I gave a Session with the Flex User Group Hamburg, about Multitouch Applikations with Adobe Flex.
Thanks for the invitation, the cool shirt and the location from elephantseven.
Maybe someone also ran in the situation that your Flex Application is so big that you can't be 100% sure that there is no uncatched Runtime Error.
This can get quickly ugly and your app will be reacting totally unpredictable. In the current state of the Flash Player there is no global exeption handling.
There is also a good post about that by Doug Mccune.
Using a try catch block everywhere in Flex it is not so easy because a lot of code is executed async by the callLaterDispatcher.
But after looking around a little I found a Variable in UIComponentGlobals.as called catchCallLaterExceptions. (Weiterlesen …)
Wow, together with foresee and People Interactive I made a sophisticated Multitouch Application for the German Telekom 2010 Shop.
And on Tuesday we received the  German Multimedia Award in Bronze for it.
Thanks to all people involved !
Together with foresee I reworked our Multitouch Sales Application
( Consultable ) for T-Mobile UK.
Our new table is 46" and has Full HD Resolution.
Now there are a sophisticated filters and finders to help the user find the best budget and phone.
Furthermore there is a Streetcheck to check the coverage
regarding 2g and 3g.
And we added printing capabilities for the chosen deals.
The Application is all done in Flex, Flash and Adobe Air.
More Information is avaiable in the video:
For the exhibition booth of Fraunhofer Academy on the Cebit this year I created a Multitouch Air Application with foresee.
It displays Information about the courses with Images, Video and Text.
Each item can dragged to a corner of the application, and related documents are copied to an USB-Stick.
On Youtube is a short Video: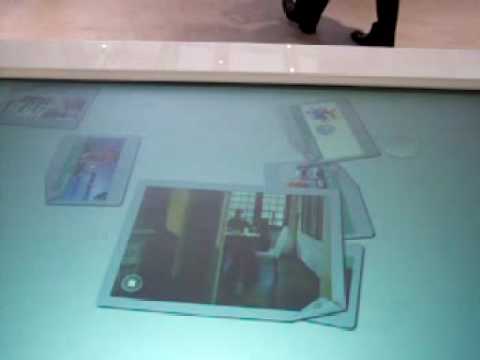 Together with foresee I created the first commercial Multitouch Table in Europe ( I'm not 100% sure if this is true but I was told so
). It has 1,50 meter diagonal and is in the 4010-Store of the German Telekom(T-Mobile). The store is in Berlin – Mitte. All applications are based on Flex and Flash.
It is possible to create your own Ringtone and send MP3 files via Bluetooth to your Mobile Phone.
On the 4010 Page you will find some pictures and here is a video:

And here is a Flickrstream of the opening.
After finding the very good Papervision Effect Classes from tink I recognized that they are build with Papervision 1.5. I'm using Papervision 2.0 in my Project so fixed them for use with Great White.

I hope they are useful for someone you can download them here.
IMPORTANT UPDATE:
The Classes are now checked for the known memory leaks and thanks to Flex Professional I think I fixed them all.
Möglicherweise bekommt Flash ein neues Dateiformat welches auch auf XML basiert. Die Vorteile in Verbindung mit SVN sind natürlich riesig allerdings könnte das auch weiterreichende Entwicklungen wie Mtasc für AS2 bringen.
http://www.moock.org/blog/archives/000269.html


Mein neuestes Projekt: Motionpaper
Ist eine Flexanwendung um Pdfs in Flash anzusehen.
Angesehen werden kann es mit einer schönen Blätterfunktion.
Weitere Features sind: Volltextsuche, Versenden, Lesezeichen, Drucken, Fullscreen…
Die Darstellung ist sehr viel flotter als ein Pdf vor allem falls das Pdf grösser ist und viele Seiten hat.
Bei Interesse kann man sich gerne bei mir melden, die Anwendung kann lizensiert und angepasst werden.
http://motionpaper.net/mp_demo/motionpaper.html
Adobe hat heute Apollo alpha released. Wer es nocht nicht kennt sollte sich unbedingt hier mal umsehen. Schönes Ding, ich hätte allerdings noch gerne einen Extension-layer wie die Xtra Api in Director.